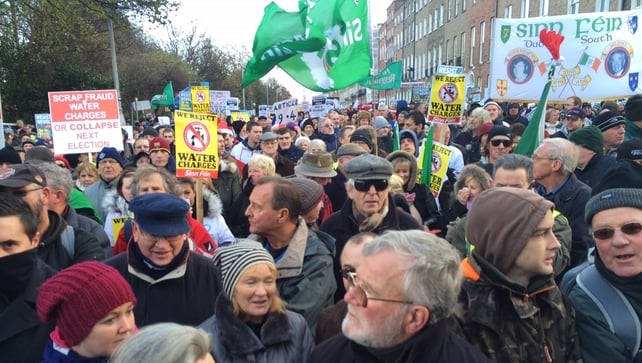 Up to 100,000 protesters shut down Dublin city on December 10 in the latest mass demonstration against the introduction of water charges.
Protesters from across the country braved media hysteria, riot police and police barricades, and the threat of a fierce storm to descend on the centre of Dublin, placing Leinster House – home of the Dáil (Irish parliament) – and other government buildings in "lockdown".
The protest – organised by the Right2Water campaign – was the third major protest against the charges in two months, following on from a 100,000 strong march in Dublin on 11 October and protests across Ireland on 1 November that attracted around 200,000 in dozens of towns and cities.
The introduction of new charges on water use, levied via new state-owned company Irish Water, has brought years of anger with austerity cuts and government arrogance to a head.
Not only is the cost of water already covered by general taxation, however, but it is also widely believed that water charges are only the first step towards the privatisation of Irish Water and water charges.