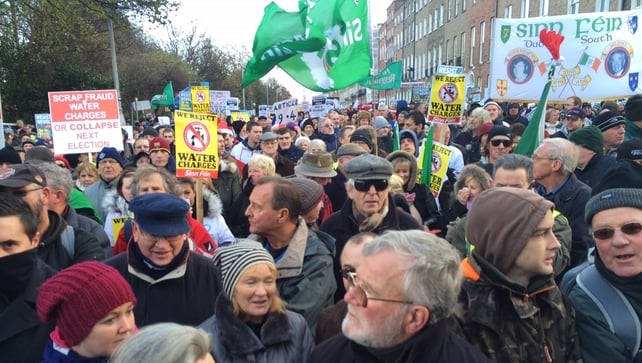 Up to 100,000 protesters shut down Dublin city on December 10 in the latest mass demonstration against the introduction of water charges.
Protesters from across the country braved media hysteria, riot police and police barricades, and the threat of a fierce storm to descend on the centre of Dublin, placing Leinster House – home of the Dáil (Irish parliament) – and other government buildings in "lockdown".
The protest – organised by the Right2Water campaign – was the third major protest against the charges in two months, following on from a 100,000 strong march in Dublin on 11 October and protests across Ireland on 1 November that attracted around 200,000 in dozens of towns and cities.
The introduction of new charges on water use, levied via new state-owned company Irish Water, has brought years of anger with austerity cuts and government arrogance to a head.
Not only is the cost of water already covered by general taxation, however, but it is also widely believed that water charges are only the first step towards the privatisation of Irish Water and water charges.



Over a dozen political, trade union and civic society leaders addressed the massive crowd in front of Leinster House, demanding that the conservative Fine Gael/ Labour Party coalition government abandon the charges, which are due to be introduced early next year.
Independent left-wing TD Clare Daly told the crowd: "This is indeed what democracy looks like. We are living in a moment that changed Ireland."
"Irish Water is already dead. We are here to bury it."
Gerry Adams TD, leader of republican party Sinn Féin, called for the scrapping of both water charges and Irish Water, saying that families "cannot take any more" and that government policy was pushing them "over the edge".
"People power has already forced this arrogant government to make concessions on its water policy. This is not something they wanted to do, but people power ensured that they had no choice.
"If the government was listening to the huge numbers who have taken to the streets, as it claims it has, they would know that they are demanding that the Water Tax is scrapped not capped. The only acceptable solution is to abolish Water Charges, and to dismantle Irish Water."
Sinn Féin deputy leader Mary Lou McDonald said "the Government is now on notice and must go".
Anti-Austerity Alliance TD and Socialist Party member Paul Murphy called for a popular campaign of non-payment of water charges when the first bills arrive in February.
"The government will be forced back on this issue or forced down", he said.
The rally was also addressed by several independent TDs, People Before Profit TD Richard Boyd Barrett and a spokesman for the republican socialist group, Éirigí.
Despite the large turnout approaching 100,000, the corporate media and police downplayed the attendance figures, claiming barely 30,000 had marched. The government also remains stubbornly insistent that water charges will be introduced.
Speaking before the protest took place, Environment Minister Alan Kelly ruled out the abolition water charges, saying that charges are here to stay, and there would be no further reductions.
Health Minister Leo Varadkar faced criticism for saying he was "bothered" by people protesting over having to pay €3 a week. Sinn Féin MEP Lynn Boylan accused the minister of being "arrogant" and "out of touch".
Organisers of the Right2Water campaign have pledged to step up their fight in the new year, with another nationwide protest planned for 31 January.
For more background, see here.
Read a detailed account of the rally here.
The Irish community in Sydney will gather at 3pm at Circular Quay station this Saturday December 13 for a group photo taken in front of the Opera House to show solidarity with this week's Right to Water demonstration in Ireland. Ph 0450 835 189 for more details. Join the event on Facebook here.