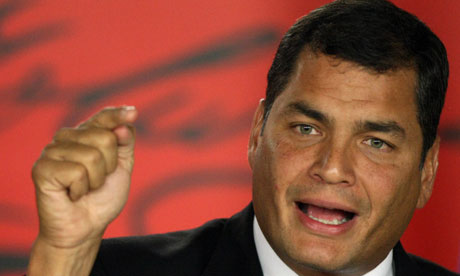 In the aftermath of a failed coup attempt on September 30, left-wing Ecuadorian President Rafael Correa has vowed to deepen his "citizen's revolution" in the small Andean country.
After the coup attempt by sections of the police and armed forces failed amid pro-government protests, Correa's approval rate has surged as high as 75% in some polls.
In response, Correa, stating his government had not done enough to implement its pro-people program and would radicalise its project to build a "socialism of the 21st century".
This call was echoed by Ecuador's National Secretary of Planning and Development Rene Ramirez, who said after the coup: "We want to have a much more progressive government, more turned to the left."
Correa, addressing the Fifth Congress of the Latin American Coalition of Rural Organisations in Quito on October 13, said Ecuador needed an "agrarian revolution" rather than small reforms in land ownership.
Addressing hundreds of peasant leaders from across Latin America, Correa said his government would either directly expropriate unused and unproductive agricultural land, or raise taxes on those properties to force its owners to sell.
Other measures proposed to deepen agricultural reform include allotting state-owned fallow land to poor farmers and a program of selective import substitution and incentives to increase local production.
The government is also moving to break the monopoly control of Ecuador's media by the big banks. The government will force banks to reduce their ownership of media outlets to 25%.
The government also said it would assist former employees of businesses that collapsed in the banking crisis of 1999 by directing the Ecuadorian Central Bank to buy those businesses.
The state of emergency that was declared during the coup attempt was extended indefinitely on October 9, as the government continues to investigate those responsible for the coup. The police force remains under investigation.
Thirteen members of the police force, including seven colonels and four captains, have been suspended from their duties due to their role in the coup attempt.
At least one of the coup leaders has been identified as a member of an elite unit – the Operational Support Group – that was sanctioned in 2009 for gross human rights abuses.
Between 1984 and 2008, the group was responsible for at least 68 extra judicial killings and a large number of disappearances.
Some opposition and social groups, however, are concerned the state of emergency could also be used to silence critics and deflect attention from the failings of the Correa government.
The powerful indigenous federation CONAIE, which is the main body representing Ecuador's 40% indigenous population – remains sceptical of Correa's rhetoric and policies.
While CONAIE supported Correa's election in 2006, they have grown critical of what they term his "extractionist" (pro-mining) approach to development – heavily reliant on the mining and oil production that has caused massive damage to indigenous communities and the environment in Ecuador.
As a poor, underdeveloped nation, Ecuador is heavily dependent on revenue from mining. Correa's government polices that have increased state revenue from the sector have been used to increase social spending, but have caused friction with communities affected by the mining industry.
During the recent coup attempt, the CONAIE, which played a key role in the overthrow of three presidents in the past 12 years, remained largely passive.
The CONAIE released a statement condemning the coup, but also criticised Correa for demonising the indigenous and environmental movements, for ignoring provisions of the new popularly written constitution, and for not carrying out his electoral promises.
It remains to be seen if the "radicalisation" of Correa's government policies can succeed in rebuilding its alliance with the CONAIE and other social movements. Certainly if Correa's "citizen's revolution" is to succeed, it will need the active support of these sectors, rather than their hostility.